Dr. Nick Valenziano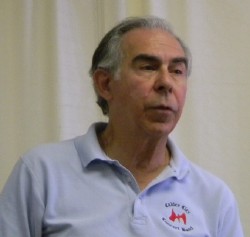 Dr. Nick Valenziano comes to us from Chicago. He received his Bachelor of Music degree from DePaul University. He went on to secure a Master of Music degree from Northwestern University and a Doctor of Musical Arts degree from the University of Missouri. Additionally, he has studied privately with Jerome Stowell (Chicago Symphony Orchestra), Oliver Thomas (WGN Orchestra), Charles Doherty (Kansas City Philharmonic Orchestra), and Santy Runyon (Chicago). He spent 35 years as a music educator at the elementary, high school, and college levels, and twelve years in the music industry, before he retired in 2001 and moved to the Grand Rapids area where he remains active as a professional player and conductor. In 2015 he was inducted into the Bands of America Hall of Fame.
As a free-lance clarinet and saxophone player, he was a member of the Civic Orchestra of Chicago, the Lyric Opera Orchestra of Chicago, the Park Ridge (IL) Civic Orchestra, and the Northshore Concert Band of Wilmette (IL). Additionally, he has performed with numerous pit orchestras and jazz ensembles in Chicago and Grand Rapids; most recently, the River City Jazz Ensemble, the Beltline Big Band, Hark Up Horns and the Down Home Horns.
Presently, Nick is principal clarinet in the Calvin College Community Symphony and the Rockford Community Concert Band which he conducted from 2004 to 2008. He also continues as pit director for the Unity Christian High School Broadway musicals, and co-conducts the Calder City Concert Band. He enjoys golf and traveling but it's a wonder that he gets to spend any time doing either with all his musical pursuits.

Jim Zwarensteyn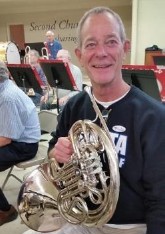 Jim is a retired music teacher of 32 years, 27 of which were with the Sparta School district where he taught senior, junior, and beginning bands. He also served in the military and retired from the Michigan Army National Guard with over 39 years service. He retired as the First Sergeant of the nationally acclaimed 126th Army Band. He has performed with that group in England, Italy, Latvia, Lithuania, Australia, Trinidad & Tobago, and Canada as well as extensively in Michigan and other states. He also directed the Grand Rapids Recreation Department Pops Orchestra for 10 years.
A 1975 graduate of Grand Valley State, Jim majored in music playing french horn in bands and orchestras. He received his MA degree from Central Michigan University. He has played in many ensembles in the West Michigan area including the Grand Rapids Symphonic Band (charter member), Grand River Winds, WM Savoyards Orchestra, Calvin Community Symphony Orchestra, and numerous other groups.
Jim is married to Cathy (a retired RN) and lives in Comstock Park. He has a grown daughter, Jill, who lives in California seeking fame and fortune as an actress. In his spare time he enjoys outdoor activity and light competitive games of volleyball, softball, and racketball.
Robert Stiles (Director Emeritus)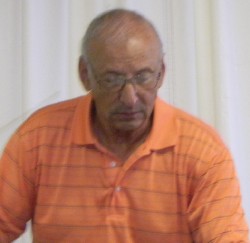 Robert Stiles came to the Calder City Concert Band after his retirement from the Michigan public school system in 1997. From then until his decision to step down from the band in 2014, he had been one of the band's directors when he was not playing his trumpet.
He graduated from Olivet Nazarene University in Kankakee, Illinois in 1961 with a Bachelor of Science degree in Music Education. Eight years later, he received a Masters Degree in Instrumental Music from the University of Michigan. With all this education, he spent 36 years in the Michigan public school systems teaching Vocal and Instrumental Music. He split his 36 year teaching career equally between Sparta and Belding with 18 years in each.
Besides filling his retirement years with participation in the Calder City Concert Band, he worked with the West Michigan Homeschool Fine Arts Association, directing a 140 - 170 member marching band; a 70 piece concert band; a mixed chorale of 16 - 20 members, ages 14 - 19; and a boys choir of approximately 70 members, ages 10 - 19. The concert band has been very successful at the MSBOA District and State band festivals.
Bob is most proud of two major highlights during his teaching career. One is when the Sparta Marching Band was the escort band for President Gerald R. Ford when he came to Grand Rapids in 1976. The other was taking the Belding Marching Band to Dublin, Ireland in 1988 to march the "honor" position for the 1,000 year celebration of Dublin. Top honors were received for that performance. His bands received many other awards over the years but these two stood out.
Copyright ©2008 - 2019
Calder City Concert Band